Welcome to the most productive youth academy in Europe!
We are proud to host the 2019 Football Braining Experience at one of the most successful youth academies in Europe. In the last ten years, Benfica has sold many of its youth players for a total of almost one billion Euros. During the upcoming FBE, you will get the opportunity to have a look behind the scenes of Europe's most productive talent factory.
Benfica will offer you presentations, training sessions, an academy tour, a stadium tour, and the museum visit. This Benfica experience will be an integral part of our 5-day Football Braining course.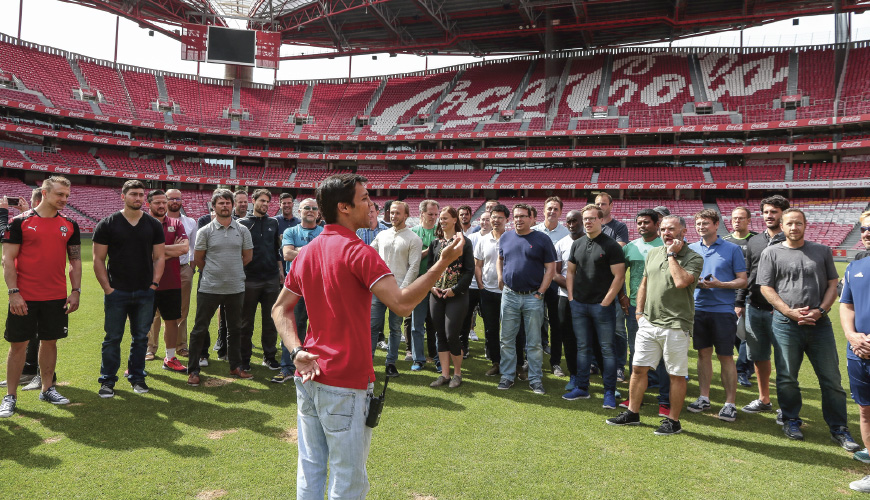 Football coach evolution model: a brand new Model to coach players!
The mission of the World Football Academy is to bring objective football knowledge to the doorsteps of all coaches around the world. Based on the universal football reference (Football Theory) Raymond Verheijen has studied the many evolutionary principles. This knowledge about how human beings have developed in general has been translated to the football context which resulted in the Football Coach Evolution Model. This new coaching tool allows coaches to develop their players in a way that is more aligned with how the players' brain works. The ultimate goal of the FCE Model is to develop self-regulating players and teams.
What will make this 5-day course unique is that Raymond Verheijen will deliver the course based on the FCE Model. Delegates will study the model by experiencing it themselves. These experiences will offer the delegates the opportunity to also work on their own personal development. They will become more conscious of their own unconscious brain. This higher self-awareness will allow delegates to be more effective in their coaching but most of all to be a better role model for their players.

Download course brochure
Football Braining Experience 2019
Registration
Coaches can register for the Football Braining Experience 2019 in Lisbon, Portugal by sending an email to info@worldfootballacademy.com
The registration deadline is 1st October 2019 or any moment earlier after we have reached the maximum number of 20 delegates.