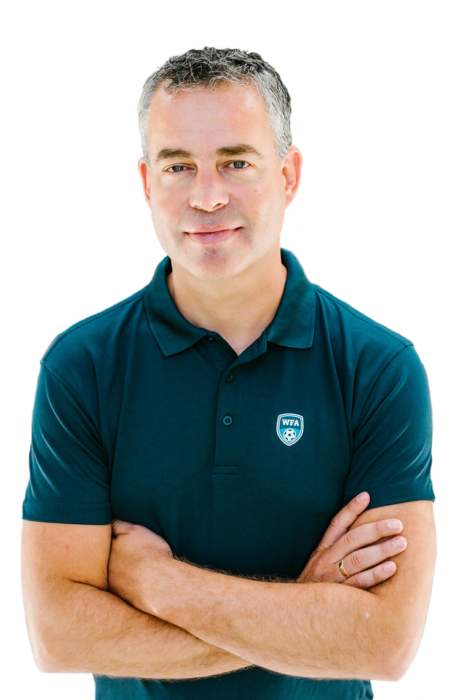 As a youth player Raymond Verheijen (1971) was part of the famous Dutch Youth Academy structure. Unfortunately, the dream of a professional career ended as a chronic injury forced him to retire at the young age of 18. This disadvantage became an advantage as Verheijen started his coaching career at the age of 19. He studied Exercise Physiology and Sport Psychology at the Free University Amsterdam and completed his Masters Degrees in 1995.
In 1995, Verheijen developed his Masters thesis into the book 'Conditioning for Soccer' which became the coach education book of the Dutch FA (KNVB) in 1997. Verheijen became a pro-license instructor at the Dutch FA in 1998. In 2014, Verheijen published the best-selling book 'Football Periodisation'. More than 30.000 copies have been sold worldwide.
Verheijen has been involved as an assistant or consultant in 4 World Cups and 4 EURO's and with several European top clubs. All his lessons learned at international level have been described in 2015 in the book 'How Simple Can It Be?' which was published in Dutch, English, Portuguese, Japanese, Chinese amongst other languages.
Fly on the wall
Do you want expert feedback on your team process from someone who has been part of team processes at World Cups and Euro's as well as in the Premier League, Primera Division and the Bundesliga?
Raymond will join your staff for one week to observe the processes both on and off the pitch without interfering in the situation.
During the week you and your staff members will have the opportunity to sit down with Raymond '1on1' and discuss very specific topics.
Afterwards you will receive a report with observations and recommendations. Raymond will discuss this feedback with you personally.
In-house course
Are you working towards a very important phase of the season? Your staff members will become periodisation experts within 3 days to help you reach your goals.
Based on your specific demands and questions Raymond will educate you and your staff in your own environment. No generic knowledge transfer but solving specific knowledge gaps within your staff to reach the goals you have set yourself.
During this in-house course Raymond will supervise your application of his knowledge to improve your team processes, to develop more effective training programs both at team and individual level, and to raise the bar within your staff.
Keynote presentation
Planning your next big event? Are you looking for a unique way to surprise your audience and make them think? Raymond will keep your audience on the edge of their seat from the first to the last minute with his world renowned and very demanding way of presenting.
EURO2000: Netherlands (semi final)
WC2002: Korea (semi final)
EURO2004: Netherlands (semi final)
WC2006: Korea
EURO2008: Russia (semi final)
WC2010: Korea
EURO2012: Russia
WC2014: Argentina (final)
FC Barcelona (Champions League 2006)
Zenit St. Petersburg (UEFA Cup 2008)
Chelsea (FA Cup 2009)
Manchester City