Football Braining Experience
International Pathway • Level 1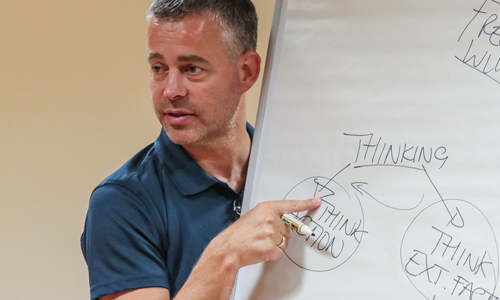 What will you learn?
Traditionally, psychological knowledge is projected on to football. The consequence of this 'outside-to-inside' approach is the introduction of many non-contextual terminology and knowledge. As a result, many coaches struggle to apply this non-specific information in the football context. During the Football Braining Experience (FBE) coaches will be presented the football specific psychology concept. In particular, coaches will receive communicative tools to be more precise and to-the-point when coaching the psychological aspect in football.
In the classic training science one often refers to body parts like the muscles, lungs and blood cells when talking about training effects. In this course it will be demonstrated how stronger muscles are only a by-product of a stronger brain. When overloading football the body part brain is the weakest link. During the FBE delegates will get coaching tools to increase the demands within football training exercises and to overload (the brain of) their players.
Football Periodisation is about the planning of all football activities in the best possible way to get the maximum training effect out of each session and to avoid a loss of training quality due to accumulation of fatigue. Therefore, brain performance and in particular brain fatigue and brain recovery are fundamental principles in Football Periodisation. In the FBE the coaches will get tools on how to apply the latest brain science in football training at all levels and age groups. On top of this, coaches will also get a deeper understanding of how to vary their coaching style during the training week based on their players' brain state.
The 2019 edition of the Football Braining Experience will take place on 25-29 November in Lisbon, Portugal.
What is your next step?
Coaches who have fulfilled the Football Braining Experience (level 1) are eligible to apply for the level 2 course: the Expert Meeting.