Football Periodisation
Develop a top fit team without injuries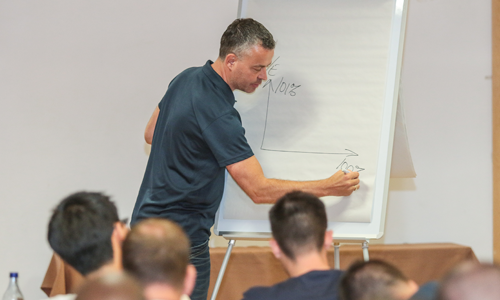 What is football periodisation?
Football Periodisation means the periodisation of football. In other words, the periodisation of 1) communication, 2) decision making, 3) executing decisions and 4) football fitness. Based on this universal football reference, Raymond Verheijen will explain the principles of football periodisation. These are principles to overload and develop 1) Football Tactics, 2) Game Insight, 3) Football Technique and 4) Football Fitness within football training.
What will you learn?
Football Periodisation is about the planning of all football activities in the best possible way to get the maximum training effect out of each session and to avoid a loss of training quality due to accumulation of fatigue. Therefore, brain performance and in particular brain fatigue and brain recovery are fundamental principles in Football Periodisation. Coaches will get tools on how to apply the latest brain science in football training at all levels and age groups.
Coaches will learn to develop a periodisation for their own team in which all warming-ups, passing exercises, position games, football fitness games, tactical games and other exercises have been planned for weeks, months or even the entire season.
What is the program?
Block 1. Principles of periodisation (1)
Block 2. Principles of periodisation (2)
Block 3. Developing team periodisation (1)
Block 4. Developing team periodisation (2)
What will be your next step?
After participating in the Football Periodisation module coaches will be eligible to register for the Football Periodisation Mentorship. This 5-day event is a Level 1 course in the FCE International Pathway. During this international course with coaches from all around the world, delegates will learn how to use the content of the Football Periodisation Module to develop the team periodisation. Within a 48-week team periodisation, the delegates will learn how attacking, defending and transitioning can be developed.