Football Tactics Evolution
International Pathway • Level 1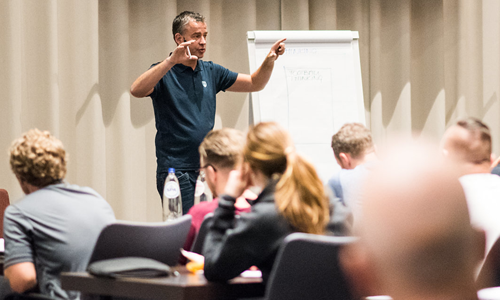 What will you learn?
During this 5-day event the delegates will work on the methodology, planning and periodisation of Football Tactics. In both plenary and subgroup sessions the delegates will develop:
1) passing exercises,
2) position games,
3) tactical games,
4) football fitness games,
for attacking, defending and transitioning within the context of multiple tactical formations:
– 1-3-5-2,
– 1-4-1-4-1,
– 1-4-2-3-1,
– 1-4-4flat-2,
– 1-4-4diamond-2
– 1-3-4-3,
Next, within the above exercises, the coaches will also develop methodological steps. How can the demands within these exercises be increased to gradually overload the communication between players from week to week and from month to month?
Finally, these exercises and methodological steps will be used as building blocks to develop the Football Tactics Periodisation. Within a 48-week team periodisation, the delegates will methodologically plan the development of attacking, defending and transitioning from day to day, week to week and month to month.
The 2019 edition was hosted at Red Bull Salzburg in Austria. The Football Tactics Evolution 2020 will take place on 23-27 March.
What will be your next step?
After finishing the Football Tactics Evolution coaches will be able to plan the playing style development. Coaches who would like to learn more about how to perform this playing style with a higher tempo and for 90 minutes are advised to choose for the Football Periodisation Mentorship as the next step in their educational pathway.
Also, coaches who have fulfilled the Football Tactics Evolution (level 1) are eligible to apply for the level 2 course: the Expert Meeting.