Football Theory
Learn to be more precise and objective in your coaching of players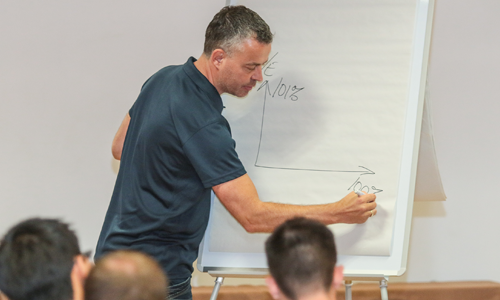 What will you learn?
This Football Theory module should be the foundation course for all coaches in football. Players deserve coaches who are clear and consistent in their coaching and training. In many professions, practitioners apply universal references and terminology to avoid miscommunication and misunderstanding. In football, however, coaches approach their job based on their own subjective opinions, experiences and terms. In this Football Theory course, Raymond Verheijen will educate coaches about the objective and universal football reference and language based on the characteristics of the game.
A deeper understanding of this universal football reference will allow coaches to have a more objective starting point when coaching and training 1) communication, 2) decision making, 3) executing decisions and 4) football fitness. The presented universal football language will allow coaches to be more precise and to-the-point when coaching players.
What is the program?
Block 1. Universal Football Reference and Language
Block 2. Principles of Communication – Football Tactics
Block 3. Principles of Decision making – Game Insight
Block 4. Principles of Executing decisions – Football Technique
Coaches are advised to do this Football Theory module before registering for any of the other modules in the FCE Domestic Pathway.
What will be your next step?
Coaches who have fulfilled this module of the domestic pathway are eligible to register for the Level 1 courses of the international pathway:
Football Tactics Evolution,
Football Braining Experience,
Football Periodisation Mentorship.