Individual Periodisation
Tailoring the training load of individual players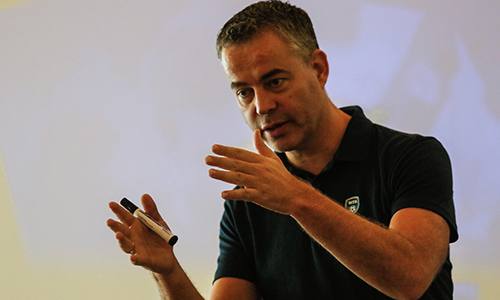 Individual Periodisation (within Team Periodisation)
Football is a team sport so all players should be trained in the team context. To plan this team training the coach will develop the team periodisation for a carefully balanced team training load. However, not all players have the same football fitness. Therefore, for some players the team training load will be too high or too low. To manage the diversity in football fitness within the squad every football coach must develop the ability to tailor the training load for each and every player. This so-called individual periodisation will avoid the over- or undertraining of players as well as unnecessary injuries.
What will you learn?
In this course the delegates will learn about the principles of individual periodisation. In the second half of the course these principles will be applied at both first team level (adult players) and academy level (youth players). Coaches will learn when and how to reduce or increase the training load for specific players. It will also be demonstrated that the rehabilitation of players is not something isolated but also a type of individual periodisation within the team periodisation. This knowledge will allow the coach to have a much better and closer look at the progress of his players during their rehab process.
What is the program?
Block 1: Individual Periodisation within Team Periodisation: Principles
Block 2: Individual Periodisation within Team Periodisation: First Team
Block 3: Individual Periodisation within Team Periodisation: Youth Academy
Block 4: Individual Periodisation within Team Periodisation: Rehab
What will be your next step?
After participating in the Individual Periodisation module coaches will be eligible to register for the Level 1 courses of the Individual Pathway:
– Football Tactics Evolution;
– Football Periodisation Mentorship;
– Football Braining Experience.
The Football Periodisation Mentorship is the most logical progression after the Individual Periodisation module. During this 5-day course with coaches from all around the world, delegates will learn how to use the content of the Football Periodisation Module to develop the team periodisation. Within a 48-week team periodisation, the delegates will learn how attacking, defending and transitioning can be developed.