Personal Development Course
International Pathway • Level 4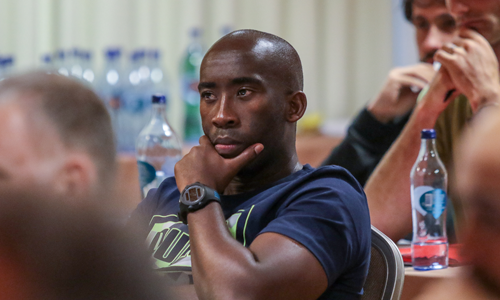 What is the Personal Development Course?
The unique Personal Development Course is an intensive 5-day course during which an exclusive group of 8 coaches will reflect on specific situations during their career so far. This learning process will be based on the principles of Football Coach Evolution which have been introduced during the Football Braining Experience (Level 1), Expert Meeting (Level 2) and ProCourse (Level 3).
What will you learn?
'Learning by Doing': every day, each coach will deliver a 45-minute presentation about specific topics. After each presentation there will be a 15-minute feedback session between the coaches. These evaluation sessions are important learning moments for all coaches involved.
Whether you give or receive feedback, the challenge for each coach during the presentations and Q&A-sessions is to control thinking, to stay objective, to consciously switch between philosophy and application, to consciously zoom-in and zoom-out, when asking and/or answering questions.
In other words, during these four long days -from early morning to late evening- coaches will be tested to have totally objective discussions every single minute of the day. The consecutive long days will be an intense overload on the brain of the coach allowing the coach to learn about himself or herself as a person in general and as a coach in particular.
All sessions will be recorded for personal evaluation. Raymond Verheijen will supervise and mentor the process with 'classroom' and '1-on-1' feedback.
In 2016, the inaugural PDC was hosted at Feyenoord Rotterdam in The Netherlands. The 2017 edition was held at Benfica Lisbon in Portugal. In 2019, the Personal Development Course will take place on 1-5 September at Chelsea F.C. in London.
What will be your next step?
Coaches who have fulfilled the Personal Development Course are eligible to apply for the next level course: the Reference Thinking Retrait (Level 5). This new course will be launched in 2020.