ProCourse
International Pathway • Level 3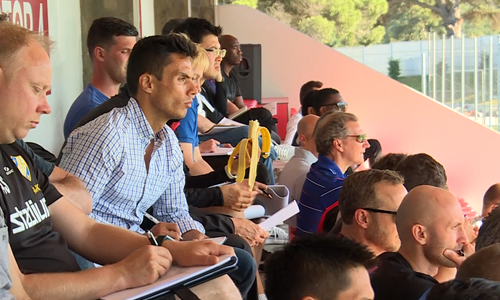 What is the ProCourse?
This 5-day event is available for (head) coaches with an extensive Expert Meeting background. The overall theme of this course is the new Football Coach Evolution Model. In 2018, Spanish top club Valencia C.F. was the first ever host of the ProCourse. The 2019 edition was held at Bundesliga club RB Leipzig in Germany. In 2020, the ProCourse will take place at Real Madrid in Spain.
What will you learn?
In the last 10 years, Raymond Verheijen has educated thousands of coaches all around the world about the WHAT of coaching football. He used the universal characteristics of the game as the objective reference to explain WHAT should be coached in football.
During the ProCourse coaches will learn about the objective reference of the HOW of coaching football. The principles of human evolution will be used as the objective reference to demonstrate HOW football players should be coached. The development of a football player is a specification of how human beings have developed in general during millions of years of evolution. These Football Evolution Principles will also be applied during daily training sessions with top youth players. 
The Level 3 course (ProCourse) is an application-only event. Coaches will get an invitation to apply based on 1) head coach experience and 2) Expert Meeting experience.
What will be your next step?
Coaches who have fulfilled the ProCourse (Level 3) are eligible to apply for the next level course: the Personal Development Course (Level 4).