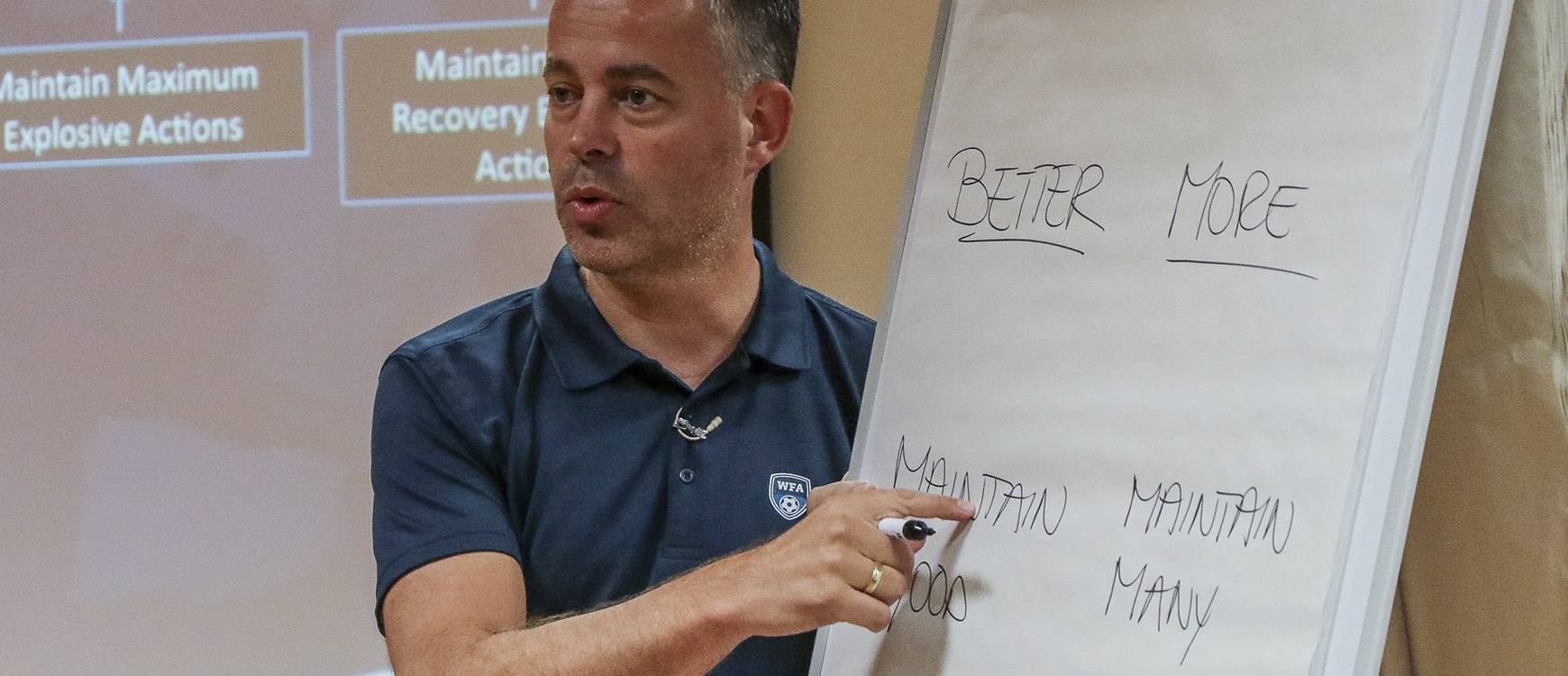 In the last few years the term periodisation has been a buzzword. A lot of people are talking about periodisation but not everyone seems to understand what it really means. There are a lot of different interpretations of what football periodisation means and how it can contribute to developing players. In this blog I will try to create some clarity and to falsify some of the current believes.
Planning to maximise training effect
First of all, the term periodisation refers to planning. What are you doing when? This planning of training sessions is important to maximise the effect of every single session. During sessions players will often develop fatigue as a logical consequence of stretching boundaries. So, fatigue during a session is ok as long as the player manages to get rid of this fatigue between sessions. Otherwise, the player will start the next session still more or less tired from the previous session. This would have a negative effect on the quality of that next session and its subsequent training effect. Therefore, football coaches should be educated about the principles of football periodisation to get the maximum out of each and every training session without compromising the effect of future sessions.
Periodisation is not fitness training
Many people associate the term periodisation with fitness. As if it is another word for the same phenomenon. But it is not. Football periodisation means the periodisaton of all football activities and not just the planning of football fitness training. It is the planning of tactical games, position games, passing exercises, football fitness games amongst other exercises. Based on the principles of football periodisation a coach can balance the training load between these exercises within sessions and between the sessions.
Just a tool and not a rule
During a football periodisation course the principles of football periodisation are often introduced based on straight forward examples. But in reality, many coaches do not work in an ideal world. They have to deal with many external factors. So, the application of the principles of periodisation is often not as straight forward as demonstrated in a course. In reality coaches have to compromise when applying these principles. At some stage, coaches might conclude that football periodisation is not possible in their environment. These coaches do not understand the meaning of this coaching tool. The principles of football periodisation are not a concept you have to apply in your training. It is not an objective in itself. No, it is just a tool to structure your training and to balance the workload.
Independent of whatever principle every coach has to plan and balance his training anyway. Now what do you prefer? Plan your sessions based on just your subjective opinion or based on several objective principles you can trust? Asking the question is answering the question. So, the principles of football periodisation are just tools to structure your training program. And even when you have to compromise some of these principles the glass is still half full. Some structure is still better than no structure.
One size fits all?
The football periodisation principles help you to structure your training program at team level. It allows you to carefully plan the team training from day to day and from week to week. As a result, the training load is initially defined for the team as a whole. However, not all players do have the same football fitness level. So, within the context of the team planning (the so-called Team Periodisation) the coach has to fine-tune the workload for individual players. Therefore, football periodisation has nothing to do with 'one size fits all'. It is just an overall team reference point which allows the coach to tailor the training load for individuals. In fact, this is the opposite of one size fits all.
No periodisation in youth football?
In youth football the football fitness training is only relevant after players have gone through the growth spurt. From that moment onwards the testosterone levels in the youth players' body are high enough to develop extra training effects. As mentioned above, many coaches think football fitness and periodisation are the same. So, if football fitness training is irrelevant before the growth spurt it means periodisation is useless before the growth spurt. Hopefully, after reading this blog all coaches understand this is a thinking mistake. Football fitness training is indeed irrelevant but football periodisation is essential to structure youth training and to optimize the training effect in other areas than football fitness.